WESCO ATHLETIC NEWS STSPN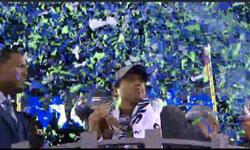 It was the beginning of a nightmare night for the NFL's Most Valuable Player, and the culmination of a dream season for Seattle, which dominated the Denver Broncos for its first Super Bowl championship, 43-8 on Sunday night in East Rutherford, N.J.
The game began with the fastest score in Championship football history, 12 seconds in, as the opening snap sailed into the end zone, where Knowshon Moreno fell on it for a safety.
The second half started just as stunningly, with Seattle's Percy Harvin returning the kickoff 87 yards for a touchdown -- again just 12 seconds in.
Clearly that 12th Man energy was heating up the cold MetLife Stadium -- and making some magic.
Never was it more evident than when Harvin, who'd played just two games all season due to injury, took the second-half kickoff back for a TD. The 25-year-old receiver, who missed 15 regular-season games with a hip injury and the NFC Championship Game with a concussion, had his first Seahawks highlight as he showcased his speed, streaking away from the Broncos' kick coverage en route to a 29-0 lead.
When Seahawks wideout Jermaine Kearse bounced off five Broncos en route to a highlight-reel 23-yard TD and a 36-0 lead with 2:58 left in the third quarter, the talk no longer was whether the Seahawks would win their first title, but whether they'd pitch the first shutout.
The Seahawks, who joined the 1978-79 SuperSonics as the only Seattle pro teams to win titles, started with the safety and never slowed down, adding a pair of field goals by Steven Hauschka, a Marshawn Lynch TD and a pick-six in the first half. Meanwhile the Broncos never got started, following the safety with a three-and-out and then back-to-back interceptions by Manning in consecutive drives -- the second a pick-six by Malcolm Smith, who rumbled 69 yards en route to a 22-0 halftime lead.
FOX SPORTS
Other Articles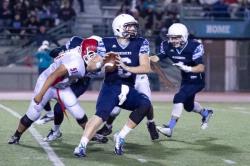 It took a while for Meadowdale to figure out what Renton was doing defensively in Friday night's non-conference football game.
Read More
Twitter Feed